40 days – 40 hikes – Walking 4 Education
Education is the key to unlock the golden door of freedom ~ George Washington Carver
We had a lovely big group of family and friends for the walk to the Gorge. Aunties, uncles, grandparents and cousins gathered in the Thendele Car Park at 9:30 and we began our gentle walk up along the Tugela River.
This is probably one of the most popular walks in the Northern Drakensberg and one of outstanding beauty. The whole way up the Amphitheatre mountain is ahead and we were lucky to have the most gorgeous blue day.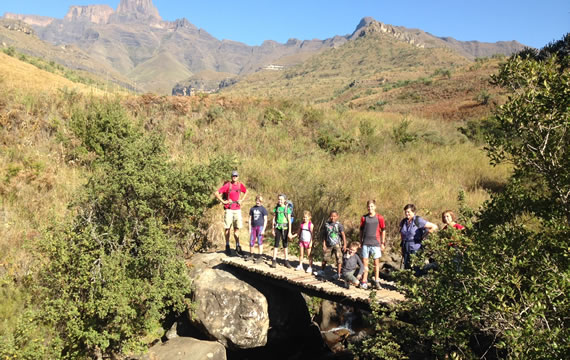 The path winds up the valley on a gentle uphill through a few small forests but mostly in the gorgeous sunshine. It is relatively easy walking but little children do need encouragement. Daphne & Loretta kept Bella & Jude motivated and forward marching because the stories could only continue if they walked…..
The very last section requires a bit of boulder hopping but it is definitely a good idea to get to the end. The view up to Devil's Tooth is magnificent. And, a little time to walk up the tunnel is always great fun. At this time of year the water level is quite low so we managed to get right to the top and 4 of us braved the cold and jumped in the small plunge pool. It was the most invigorating, take-your-breath-away swim!
We had a great lunch time picnic and hot tea & coffee. The old folks explored the Cave, the children raced up the chain ladder and then we returned home on the same path.
A great day out. We are nearing the end of our 40 days and I am certainly going to miss all the happy times….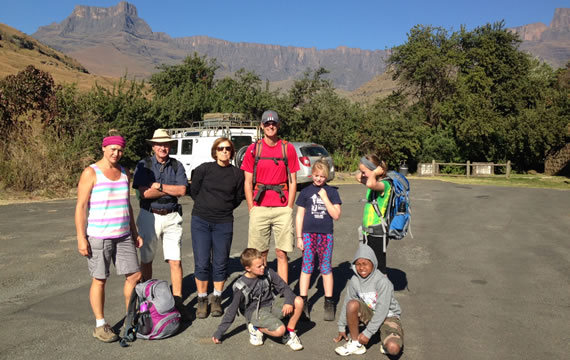 Update
An update on the progress so far…