40 days – 40 hikes – Walking 4 Education
A dream doesn't become reality through magic; it takes sweat, determination and hard work – Colin Powell
We departed from The Cavern just after 7am. We knew this was going to be a long day because the idea was to do a big circle and walk home.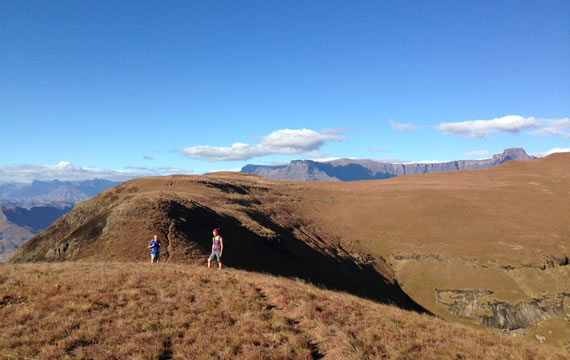 We headed up Sugar Loaf Gap and then along Cold Hill. The path then meanders around the back of Broome Hill and here we had to be careful not to miss the split. We walked on the front of the hills and then missed the turn down to Gudu. No worries to us we just bundu-bashed our way on the opposite side of the river down to the top of Gudu Falls. This is a unique spot. There are crystal clear pools and the water was flowing beautifully. At the top, hidden between the rocks, is a gorgeous large pool for swimming… summer swimming! We put our fingers in and decided against trying to have an Autumn dip! I often wonder how many folk miss the real special spots because they don't explore enough…..
We had our coffee and a bit of a snack and then left Gudu at about 11:30. We walked up the ridge towards the Crack. The path is quite well worn and along the top of the ridge there are a series of cairns leading to the top of the Crack.
I have been down the Crack a couple of times but the looming little ladders did put me slightly on edge. Whilst it is a challenge for those of us nervous of heights it is amazing what a bit of encouragement and strong guidance can do! And, it is really quite magnificent.
We were down within the hour and then headed onto the Mahai Valley path for a lovely gentle down, through the Forest and out the other side. We took a left off this path, towards the Mudslide (which has been reopened and we will have to do next time), the Grotto and Castle Rocks.
This was going to be a long stretch. We had our sandwiches at a lovely view point and then continued. The ups were becoming hard work but somehow the legs responded. After passing the Mudslide and the Grotto we were back on the good old contour that leads to Surprise Ridge. Although this should have been relatively easy walking it was rather tedious and difficult because the path is overgrown with large rocks that we kept tripping over! But, when the going gets tough there are always lovely surprises! We spotted 6 Eland and 2 Mountain Reedbuck and we spent a little time watching them. Eland are enormous but graceful creatures. In fact we had been so lucky to see 3 groups of about 7 Mountain Reedbuck up above the cliff line as well as 6 Cape Vultures.
We rested for a short time at the top of Surprise Ridge before descending quickly past Pascoe's and Cowslip Falls. We were home just after 5. An excellent walk followed by a very deep sleep!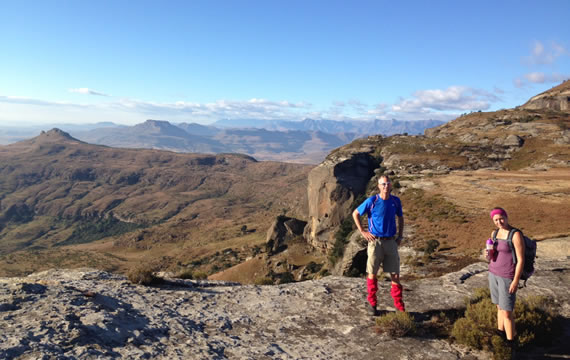 Update
An update of the progress so far…