40 days – 40 hikes – Walking 4 Education
It always seems impossible until it's done ~ Nelson Mandela
What a brilliant day! This was to be our only day with a fundraising target and everyone that hiked had to bring R5000 to the party. My paternal grandmother, Ruth Carte, began the Cavern in 1941. Her birthday was on the 19th May and it would have been her 103rd birthday and so it was our mission to raise R103 000! 20 hikers at R5000 each and I would top-up with the extra R3000. While the final funds are filtering in, a quick calculation brings us to R130 000 which means we have passed the target…. Thank you for contributing! It all goes to a great cause – educating the children. Each and every cent is carefully managed ensuring a better future for the little people and in the long-run our beautiful country.
The Big Five is a wonderful hike that summits the 5 peaks surrounding the Cavern Farm. First is Hlolela, second is the Battleship, third is Sugar Loaf, fourth is Cold Hill then it's down the Devil's Staircase and Cavern Gap to Cannibal Cavern for lunch. Finally along Surprise Ridge and up the fifth peak, Camels Hump. It is about 17kms, there is plenty of up and down and it is just over 900m of climbing. It takes its toll on the legs and the knees definitely get a little work-out but there is something special about this walk. It may be the countdown of the peaks, the fact that you can see where you are heading and where you have come from or simply the marvelous camaraderie of all the folk who do it.
Team A – Gogo Rhona, Khulu, Daph & Anton (almost all the golden oldies!) – had left at 06h30 to get a head-start. Team B was the bulk of the group and what a mixed bag we were! Team C ate breakfast at leisure and then charged up after us all. And in the middle of all these teams was Team Z – Stephen Kirker – who was on a mission to do the Big 5 twice! And he did it! And, he had lunch back at The Cavern!
Meanwhile, Teams A to C gathered at the top of each peak for special group photos and had great chats as we walked…..
It was a two hour climb to the top of Hlolela then we headed to Battleship. Tea was at Venus Bath and Mike, who had met us there, made sure we had plenty to eat from Cavern Crunchies to rusks and muffins. Hiking after tea was quite hard work but we managed the climb to Sugar Loaf and then along to Cold Hill. Down, down, down to Cannibal Cavern where we were met by Themba and Dave for a tasty mountain picnic of sandwiches, cheese & biscuits and most importantly pork sausages and champagne. We toasted our dear Gogo Ruth with a few bubbles before heading on the final leg along Surprise Ridge to Camels Hump.
We made our way home and were met by all the teachers and staff at The Cavern's Cave Bar. Drinks had been donated by SA Breweries and we all toasted our marvelous achievement.
This day was one to remember. It seemed impossible to some but we all achieved. We spent time in the hills soaking in the surrounds and managed to raise much needed funds which means we can keep the little light of hope alive……
A very special thanks to all that came – you guys do rock! Of course it has been decided that this should be an annual event so we'll keep you posted!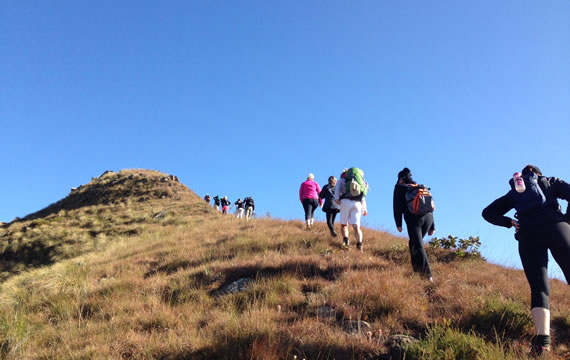 Update
An update of the progress so far…