40 days – 40 hikes – Walking 4 Education
It is better to light a candle than curse the darkness ~ Eleanor Roosevelt
Having just returned from three nights in Durban we decided to spend a few hours in the office catching up with emails and a few other bits and bobs. Our walk departed after lunch at 2:30 in the company of three loyal hounds and four friends.
We walked via Top Dams and TV Ridge and then took the short cut straight up to the cliff line to Cannibal Cavern. Cannibal Cavern is a great big gash in the sandstone cliff line and really more of an overhang than an actual cave. This is important to note, because there are only a few great sleeping spots and when you venture out with the cousins in mid-winter, it is hugely important to book your spot fast!
In the early days the Cavern was a guest farm. My grandmother, Ruth, ran it with her husband, Bill. There were goats and cows and I am sure a few ducks. There wasn't any electricity, the roads were dirt and life must have been rather hard. But, in the good old days they made them strong and no challenge was insurmountable.
Cannibal Cavern is a great spot to reflect. There is a stone building in one corner. This would have been for the shepherds who looked after the sheep. The cave was fenced off and during the night all the animals were brought in, away from the jackals and hyenas, and the shepherd would overnight in the little hut.
There were also gorgeous Bushman paintings in the cave. A natural fault in the rock above resulted in water seeping on to the paintings and in time they have almost completely disappeared. On a very wet and misty day and with a trained eye it is possible to pick up the outlines. Unfortunately some youngsters still write over these special rocks, oblivious to the damage they do. A constant reminder of the importance of education. How else do we conserve? Why would we want to protect?
A little time in this great space and then time to head back to the realities of daily life…. We came down quickly past Pascoe's Pool and Cowslip Falls.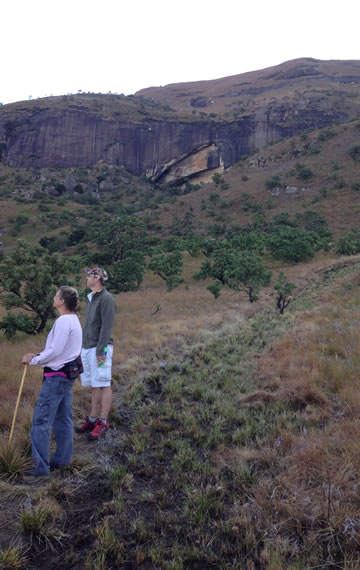 Our progress so far…