Run, run, as fast as you can, you can't catch me, I'm the Gingerbread man! Well, there were Gingerbread men and Tortoises this weekend.
It's been a spectacular couple of days of running. This is the 4th Runtheberg and once more it has been an incredibly well orchestrated event. There were approximately 550 runners, joggers, sloggers, and a few plodders that took to the hills in the Northern Drakensberg.
Two routes were on offer over two days. The 25km Extreme included our Big5Hike and then along the ridge towards All Out Adventures. The more gentle option, the 15km Challenge (which was actually 17km!!!!), went from the Fern Forest to TV Ridge and then Pascoe's Pool before descending to Cowslip Falls and then a lovely long winding stretch to All Out Adventures. The next day was in the valley. The Extreme participants raced up Montusi Mountain while the Challengers rambled through the Montusi Gorge, along the air strip and down Secret Pass. Day two ended on a long hill which took a tremendous amount of perseverance, sweat and stamina to get to the finish line!
We have never really been runners and we certainly aren't built for speed but there is something quite incredible about being on the mountainside, with the softer trail paths underfoot and meandering through the rugged Protea bushes. If you need to find a way to motivate yourself to run, then maybe trail running should be your choice. It's also great because there are places where it would be complete madness to run and walking is the only option. No-one comments or judges, it's just part and parcel of how it all happens.
This year, I ran alone. My sister had had the flu and just wasn't going to manage. It's a long time plodding the hills but it's a great time to process thoughts, think about challenges and to come up with a few remarkable solutions. It's also rather fun eavesdropping in on all the conversations! Along the way, I would pick a person and then try and keep up with them or smile when I passed a rather fit looking athlete! It's funny how some folk start off as Gingerbread men but we Tortoises can catch up!
The vibe was awesome, the running kit fab and the weather certainly played the game. Thanks extends to Loretta & Chris Mecklenborg from All Out and Warren King for getting us all excited to participate once more.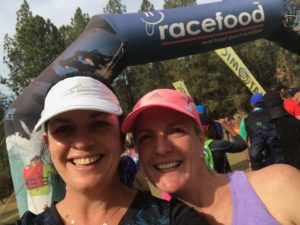 Roll-on 2018! Runtheberg 2018 will be over the weekend, 5-7 October. For more information visit www.runtheberg.co.za