Hi All,
Already the year is almost half way through and Daphne and I are once again at the Cavern helping with the Khanyisela Project. Read on to hear our fantastic news!!
Rotary Global Grant
The Rotary Global Grant application, submitted by the Rotary Club of Retford has been approved and the funds are in the process of being transferred to South Africa.
The money will be used for teacher training, installation of toilets, playground equipment and the purchase and supply of much needed educational books.
We have already ordered jungle gyms and toilets which we hope to receive within a few weeks and install them during July.
Megan will be ordering the educational books and Daphne will organise the teacher training. This may not begin for a while as we have to wait for the next level 4 Early Childhood Development course to begin at the Midland College in Nottingham Road.
We would like to say a very big THANK YOU to the Rotary Club of Retford and in particular Terry Dunmore for all his hard work and patience over the last 12 months, and more, whilst submitting (and re-submitting) the application for the grant.
The Rotary Club of Benoni Aurora will be overseeing the implementation of the grant on behalf of Rotary International and we would like to thank them for their assistance.
Vusanani New Classroom
Since our last newsletter the patio roof and paving have been installed and a boundary fence erected.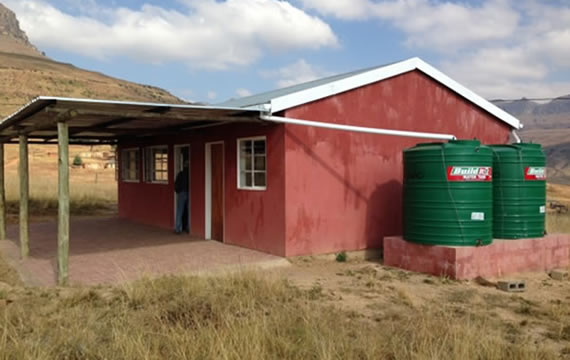 Patio roof and paving installed
Once again we wish to thank the Jervis family for their very generous donation and will welcome them here in the Northern Drakensberg in October this year to show them this lovely little school in full operation.
Ellel Ministry Group
The Reverend John Green from the Bergville Anglican Church recently accompanied an international group from Ellel Ministries to the Cavern. Daphne and I gave them a presentation on what has been achieved by the Khanyisela Project over the last five years. This was well received and we followed it up with a visit to the Emseni Pre-School where the group viewed the two school buildings and then interacted with the children and staff.
The group brought along a colourful parachute for the children to play with.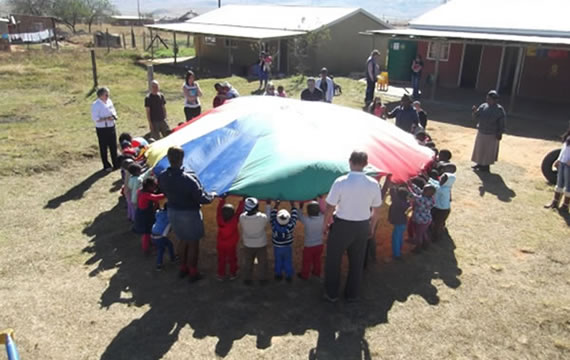 Some group members playing with the children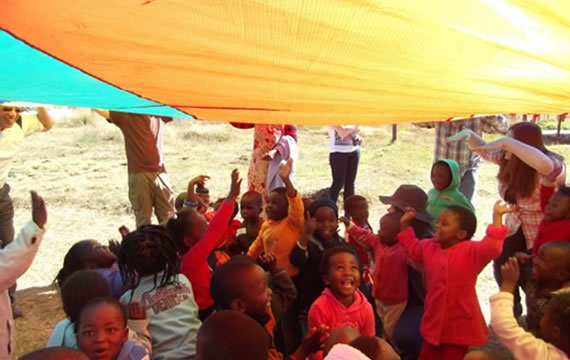 Under the Parachute
Workshop
Twelve teachers, one from each of the pre-schools, will attend a workshop during the first week of the July school holidays. This five day workshop, to be run by Theresa at Emseni School, shows the teachers how to use everyday waste materials to make toys, musical instruments and small furniture etcetera. We have seen some of the toys that Theresa has made and are sure that this workshop will be of great benefit to the teachers and their respective pre-schools.
Winter is here in the Drakensberg
Once again ladies from the Rotary Club of Retford in the UK and Rhona Williamson from Durban have been busy with their knitting needles. Knitted woollen hats, Jerseys, cardigans and blankets were received and Daphne and I have been issuing them to a couple of schools and to a local clinic.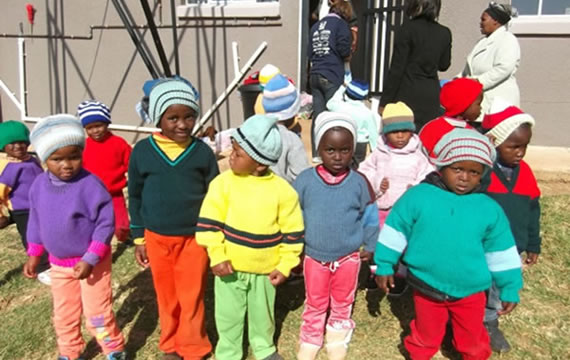 Ntokozweni Children in their new jerseys and hats.
Megan's 40 walks
February this year marked Megan's fortieth birthday and on Good Friday she began her
"Walking for Education" She completed 40 hikes of varying distances on 40 consecutive days. The walks were to raise awareness for Education.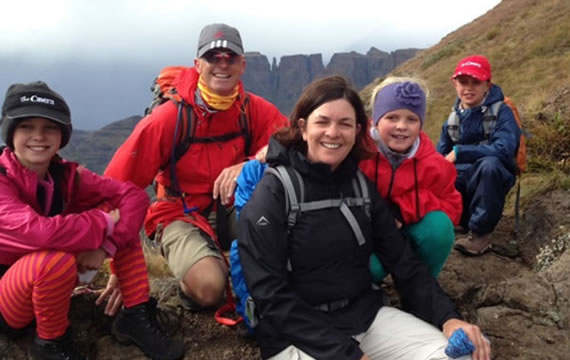 Megan and her family on their way to Mont Aux Sources
Megan tracked her kilometres and raised money, for the Royal Drakensberg Primary School, through sponsorship. Megan did short walks each Sunday with her children, half day hikes, day hikes and a couple of on the move hikes from local resort to local resort. Daphne and I joined her in May for some of her hikes along with other friends, family and Cavern guests.
In total Megan hiked a distance of 362 Kilometres and climbed 15675 Meters and raised about R200 000.00.
To see the diary of her walks go to www.cavern.co.za/category/40-series/
Royal Drakensberg Primary School – 2014 MTB Day Fundraiser
The Royal Drakensberg MTB Challenge was a wonderful success. Excellent participation, brilliant weather, fantastic sponsorship, great support, tremendous sportsmanship and awesome single track made for a fantastic day. This event brings family and friends together, it extends riders as they are challenged by the mountains and it showcases all that the berg has on offer. And while we all had great fun we also raised much needed funds for our precious school, Royal Drakensberg Primary. Special thanks to all those who made it possible.

SAVE THE DATE
The 2015 Royal Drakensberg MTB Challenge will be held over the weekend 18th & 19th April..
Jumble Sale
Our jumble sale was delayed due to the arrival of our son David and his wife Vanessa's first child, Rebekah Leigh. We just had to drive up to Jo'burg to see our third granddaughter.
The sale was held on a Saturday afternoon at the RDP School and we raised over R6000.00.
Overall Project Funding
As always we wish to thank EVERYONE for all the donations, big and small, which are helping to improve the early childhood development in this beautiful area of South Africa.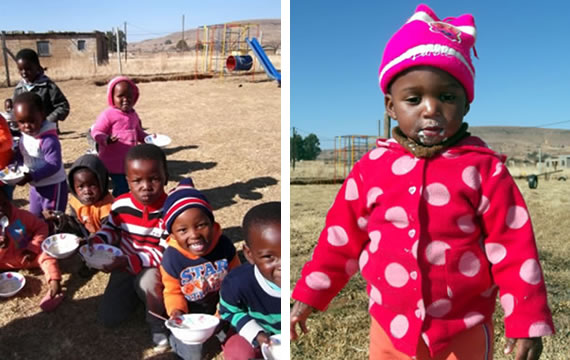 The children love their porridge
Don't forget that The Cavern, in an effort to get more donations for the Khanyisela Project, is now linked to "Pack for a Purpose".
So if you are visiting from overseas or have family or friends visiting from overseas look at the website to see how you/they can help. We have listed our needs on the Pack for a Purpose website. Visit www.packforapurpose.org
Thank you and best regards.
Dave & Daphne Thurlwell, Megan Bedingham and Jean Carte.
The Cavern – Khanyisela Project
Tel : 083 512 0146