Every year the Khanyisela Project is fortunate to have ATKV Drakensville gap year students offer to assist us . On Monday Daphne and I delivered paint, brushes and rollers and met some of the girl students at Gugulethu pre-school. They were very enthusiastic and were soon busy painting. When they were finished there were beautiful pictures of Micky Mouse, Donald Duck and Road Runner on the newly painted walls.
On Tuesday we met twenty six boy and girl students at Ekukhanyeni Pre-school. We gave them bright orange and bright blue paint for the outside walls. The only instruction we gave them was to "be creative". This they were and the school is definitely the most visible and brightest building in the area.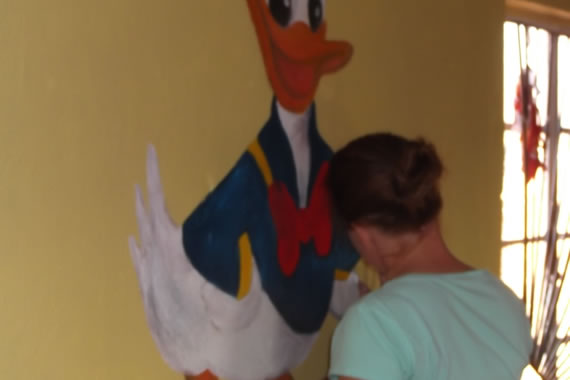 We are very grateful to the Drakensville staff for once again bringing their gap year students to help us. I believe that next year they are expecting as many as forty students!
On Wednesday we welcomed people from the Rotary Club of Benoni Aurora who were visiting to assess the progress for the Rotary Global Grant. They were very pleased to see some of the installed jungle gyms and the kit form pit toilets awaiting installation. Daphne and I confirmed that we had met and issued stationery to each of the ten teachers who are starting their level 4 Early Childhood Development course this coming Monday 18th September.
All in all Daphne and I had a very productive few days at the Cavern and will return in October to meet people from the Rotary Club of Retford in the UK who were the applicants on our behalf for the Global Grant.