GRADE: C+
TIME: 8 hours.
DISTANCE: 18 km return.
TERRAIN: Very steep at times and only done with a hotel guide as the paths are not well marked on the escarpment.
Hike from the Top Gate up through Sugar Loaf Gap. Part way up the Sugar Loaf itself, take a right-hand track that goes behind the peak. This leads to Cold Hill, ascending about 500 m. Follow the line of the fence and around Broome Hill. Cross the fence, and proceed down the slope of Plowman's Kop for about 2 km, where the stream is seen on the right, nestling in the valley. Note: it is easy to make a mistake just after crossing the fence by following a strong contour path instead. Towards the end of Plowman's Kop slopes, ease right, dropping gently into the valley, picking up the path to the lip of Goodoo Falls. Swim in the pools and have lunch at the top of the falls.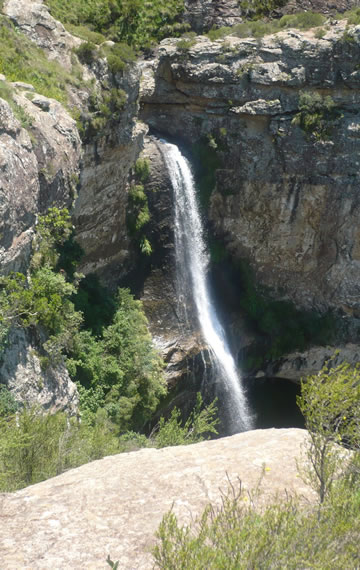 Hike back to The Cavern the same way, or descend to Royal Natal National Park for a drive back to The Cavern. There is one longer feasible alternative. Climb out of the valley on the left side (if looking out over the falls). A strong path leads to the Mudslide (aptly named in summer). If time permits a small diversion can be taken by turning off the Mudslide path near the top, and climbing, on the right of the path, onto the very end of Plowman's Kop. Brilliant views of the Amphitheatre and Dooley await. Look at the "cracks" in the rocks on the left hand side of the kop at the very end. These must be at least 300 m deep. Back down the Mudslide, using chain ladders as necessary. Turn left along the strong contour path at the bottom. Follow this past the Grotto, around Castle Rocks, around The Diamond and over Surprise Ridge, back to The Cavern.
In winter take torch, in case darkness falls before arrival home.
Download this map[gpxelevationcolor=green;gpxspeedchart=show]