Matthew Savides is fine about the cannibals but quaky with the horses on a weekend in the Northern Drakensberg
IN the 1820s — or so the story goes — Zulu King Shaka's army marauded their way through the Drakensberg, forcing smaller, weaker, worsearmed and less battle-hardened tribes to flee for their lives.
One of those tribes took shelter under a massive overhang at the top of the "Little Berg". Here, at an altitude of more than 1 970m, they felt safe. But a fear of revealing their hiding place meant they could not leave the cave for any considerable length of time. Food supplies dwindled. During the dry winter months, so did water supplies. Ultimately, they were forced into cannibalism.
That tribe exists today, known as the Amazizi. They are named after the isiZulu word "amazimu", which translates to "giant" or "cannibal" — a colleague tells me that giants were believed to eat humans, hence the double-definition.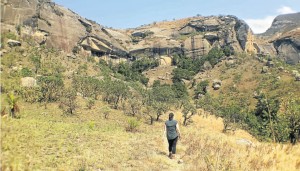 Earlier this month, my wife Megan and I took a walk to that overhang, which has been dubbed "Cannibal Cavern". We were staying at the Cavern Resort and Spa, named after that infamous cave. It's a luxury destination that still offers all the adventure one would expect from the ruggedly beautiful Northern Drakensberg.
Well fuelled from the resort's buffet breakfast, at 9.30am we slopped on the sunscreen, donned our peak caps, filled our water bottles and headed up the mountain behind The Cavern. We did the hike ourselves, following a not-to-scale map obtained from the resort's reception — but, in hindsight, doing a guided tour to Cannibal Cavern would probably have been better because the long, sometimes overgrown, pathways can be difficult to navigate.
We walked. And walked. And walked. And we panted, short of breath because of the everincreasing altitude and the dry 30°C temperature. The hike is described as "moderate with some steep sections" and, yes, parts of it are moderate, I guess, but those steep sections are particularly brutal. We stopped often but the stops were worth it. The views from the upper dams above the resort and from Surprise Ridge are simply remarkable. It really is a beautiful part of the world.
Eventually, about two-and-a-half hours later and after several glances on the map to see if we were going in the right direction, we saw Cannibal Cavern towering above us. It is breathtaking in every sense of the word. A trickle of water still runs at the back of the cave and, while we couldn't find them, faint Bushman paintings are apparently visible on the walls. Photos don't do its size justice.
We could have marvelled at the eerie beauty of that overhang all day, but we had more adventure waiting for us back at the resort, so we began our descent. It took an hour to get back — probably because we got lost and took a slightly longer route (it's a 7km round-trip, but we covered 8.8km) — and we were knackered as we walked into our suite.
But there was no time for rest: lunch was being served. Again it was buffet-style and, again, it was fantastic. In fact, every meal was pretty close to perfect, from the Sunday lunch braai to the fivecourse dinners.
More adventure awaited shortly after lunch, but it was something I had been dreading from the moment we'd arrived.
Megan has always loved horses and fondly remembers Drakensberg holidays with her family when she was young, riding horses just about every day. In the six years we've been together she's been trying to get me on a horse. The problem is I have equinophobia, an intense, irrational fear of horses — and, yes, it's a real thing.
But this time I had to suck it up and push those fears aside. After all, I had just convinced her to climb a mountain with me.
At the stables, our guide, Chris, brought out Tripple for Megan and Riddler for me. Both were terrifying. If hell existed on Earth, this was it. I climbed on and, weirdly, felt okay. Scared, but okay. The hour-long "beginners walk" started and, with Chris leading the way and Megan right behind him, I got through it. Not even the spotting of a night adder on the way back to the stables got to either us or the horses.
We dismounted and I breathed a sigh of relief. I was tense and slightly achy (I will forever claim it was from the hike earlier, but it was all because of that horse).
I needed a massage. Thankfully, Megan had booked us one at The Cavern's "Forest Retreat". As it's nestled on the edge of a beautiful fern forest, with a stream and waterfall not far away, the views and sounds alone are enough to induce relaxation. That half-hour neck, shoulder and back massage was one of the nicest I've ever had.
As we settled down in our suite that night, the day's activities seemed a distant memory. It truly was adventure in the lap of luxury.
■ Savides was a guest of The Cavern
IF YOU GO . . .
WHY GO THERE: For beauty, adventure and luxury. Apart from horse-riding and hiking routes, there are golf courses, mountain-bike trails and well-stocked dams, perfect for fishing, right on The Cavern's doorstep. Children are also well catered for, with various board games available as well as table tennis and a TV lounge. A different activity is planned for each evening, including a Sunday night movie.
STAYING THERE: The Cavern can house about 140 people and has standard rooms, superior rooms and superior suites. Standard rooms cost in the region of R1 000 per person, per night, while superior rooms are about R1 200 per person. Expect to pay about R1 400 per person in the suites. Breakfast, lunch and dinner are included. Specials are regularly posted on The Cavern's website.
FOREST RETREAT SPA: The spa offers various treatments, ranging from manicures and pedicures to full-body and deep-tissue massages. Massages are from R200 to about R500.
GETTING THERE: From Johannesburg, take the N3 towards Durban. At Harrismith, take the N5 West towards Bethlehem for 4km. Then take the R712/R74 for 8km, before taking the R74 towards Bergville (when travelling from Durban, this will be the offramp from the N3). After about 38km turn right towards the Northern 'Berg resorts. About 6km, turn right towards The Cavern, which is at the end of this road.
CONTACT: Phone 036 438 6270 or 083 701 5724 or visit cavern.co.za.
This article first appeared in the Sunday Times