A unique opportunity to explore the wonderful Drakensberg Mountain plants and to spend time observing and illustrating them. These popular courses have been run since 2004. An additional day has been added (keeping the cost as low as possible) to allow students more time for painting.
Please see the activities calendar for dates
Enjoy the famous hospitality of The Cavern, a resort hotel set in a magnificent valley adjoining Royal Natal National Park in the northern Drakensberg. The beautiful, thatched buildings are set in colourful gardens, close to wonderful walks in the mountain grassland and forests, along streams and rivers. The Cavern provides a wide variety of activities, and you are encouraged to bring your partner, friends, or family along!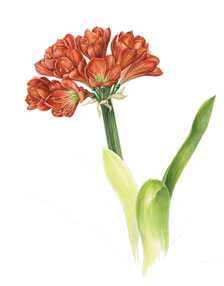 Gillian Condy and Elsa Pooley combine their talents as botanical artists and author of wildflower and tree field guides to provide a memorable botanical art course in the mountains. With excellent meals and teas provided, the participants are free to concentrate on their work. You can enjoy guided walks with Elsa. Plant material is easily sourced from the Cavern gardens and surrounding mountains. Whether you are a beginner or an established botanical artist, attending the course will inform and inspire you. You will have uninterrupted time to work on your paintings, leaving unfinished work in the studio overnight.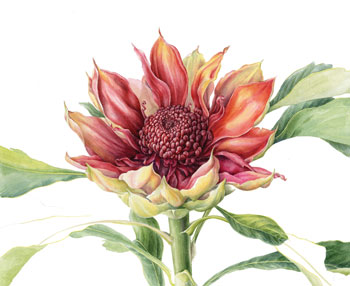 Art materials need to be supplied by the artists (you will receive a list once you have booked). The Italian Art Shop in Cape Town and Art Savings Club have a good selection of art materials and run excellent mail order systems.
Artists are welcome to bring completed work for a crit session.
RESERVATIONS:
Numbers are limited. Advance booking essential.
PROGRAMME
DAY 1
12h00-12h30 Unpack art materials in studio
12h30-13h30 Lunch
13h30-14h00 Move into your rooms
14h30-16h30 Introduction to the course. Drawing
16h30-18h00 Walk with Elsa, source plant material
DAY 2
06h30-07h45 *Walk with Elsa
07h45-08h30 Breakfast
08h30-12h30 Drawing
12h30-13h30 Lunch
13h30-14h00 Free time
14h00-16h30 Drawing
16h30-17h45 *Walk with Elsa
18h30-19h15 Art video
DAY 3
06h30-07h45 *Walk with Elsa
07h45-08h30 Breakfast
08h30-12h30 Drawing
12h30-13h30 Lunch
13h30-16h30 Painting
16h30-17h45 *Walk with Elsa
DAY 4
06h30-07h45 *Walk with Elsa
07h45-08h30 Breakfast
08h30-12h30 Drawing
12h30-13h30 Lunch
13h30-16h30 Painting
16h30-17h30 *Walk with Elsa
18h30-19h15 Art Video
DAY 5
06h30-07h45 *Walk with Elsa
07h45-08h30 Breakfast
08h30-12h30 Painting
12h30-13h30 Lunch
13h30-16h30 Painting
16h30-17h30 *Walk with Elsa
DAY 6
07h00-09h00 Walk & Al Fresco breakfast
09h30-12h30 Drawing
12h30-13h30 Lunch
13h30-16h30 Painting
18h30-19h30 Cheese & Wine with The Cavern
DAY 7
06h30-07h45 *Walk with Elsa
07h45-08h30 Breakfast
08h30-09h00 Pack clothes etc, ready to depart
09h00-12h00 Adding the 'magic touch' to paintings! Pack up art materials, departure
Tea, coffee and water is available in the studio at all times
*all walks are optional. Please bring good walking shoes and a stick is recommended.
NB Course will start at 14h00 on the first day. Please make every effort to arrive before lunch, in time to unpack your art materials & luggage. Rooms are available from 13h30, so plan to unpack art materials on arrival, have an early lunch and move into your rooms at 13h30, ready to start the course at 14h00.
COURSE LEADERS
Gillian Condy
Gillian Condy was born in Kenya. She trained as a scientific illustrator in London, followed by a Master's from the Royal College of Art. She worked in Botswana from 1978-1982 before taking up the position of resident botanical artist at the South African National Botanical Institute (SANBI) in Pretoria in 1983, until her retirement in December 2017.
She is an active freelance artist, having participated in over 200 group exhibitions worldwide including those of Royal Horticultural Society in London, Hunt Institute for Botanical Documentation in Pittsburgh, USA, the Shirley Sherwood Gallery, London (2018), Kirstenbosch Exhibition of Botanical Art (2000 – 2010). In May 2018 she curated the South African leg of the Worldwide Botanical Art Exhibition.
One of her paintings features in the prestigious Highgrove Florilegium vol. 1, commissioned by His Royal Highness, Prince Charles along with 4 works in the Transylvanian Florilegium, and Sydney Botanical Garden's Florilegium. She has designed 14 sets of stamps for Botswana Post Office and 4 sets for South Africa. In 1996 she presented a painting of "Mandela's Gold" to President Nelson Mandela.
She has illustrated over 400 plates for 'Flowering Plant of Africa', contributed to various other SANBI publications. She illustrated two books by Charles Craib, 'Geophytic Pelargoniums' (2001) and 'Grass Aloes in the South African Veld' (2005) and was a major contributor to the biographic section in the book 'Peeling Back the Petals: SA Botanical Art' (2001).
Along with Elsa, Gillian is one of the founding members of the Botanical Artists Association of Southern Africa (BAASA) and current Gauteng Chair. She has run regular art courses for SANBI and BAASA.
Awards: The Jill Smythies Award by the Linnaean Society of London (1990); the Beeld Stamp Design of the Year award (1992); the Cythna Letty Medal from the Botanical Society of South Africa (2002), Honorary Life Membership of BAASA (2017), Certificate of Merit from the South African Association of Botanists (2018). A cliff-dwelling grass Aloe from the Barberton area in Mpumalanga, was named after her, Aloe condyae.

Elsa Pooley
Elsa Pooley, author of best-selling field guides to trees and wild flowers, is a self-taught botanical artist and amateur botanist. She spent 20 years in the game reserves of Maputaland where she explored the flora of the region before moving to Clansthal on the KwaZulu-Natal South Coast in 1984. She pursued her passion for indigenous plants through collecting herbarium specimens, researching, writing, growing and painting plants. She currently divides her time between indigenous landscaping, vegetation rehabilitation, writing, and conducting wild flower tours of the region.
Elsa has taken part in group exhibitions of botanical art in South Africa since 1969. She has had paintings commissioned for the SANBI series 'Flowering Plants of Africa' and her limited edition portfolio 'Palms of Africa' (photo litho 1988) sold worldwide. She was awarded a Bronze Medal at the Inaugural Kirstenbosch Exhibition of Botanical Art (2000). Elsa is a founding member of BAASA and former chairman of the KwaZulu-Natal branch.
BOOKS: Elsa is well known for the best-selling, photographically illustrated books 'The Complete Field Guide to Trees of Natal, Zululand & Transkei' (1993), 'A Field Guide to the Wild Flowers of KwaZulu-Natal & the Eastern Region' (1998), 'Mountain Flowers, A Field Guide to the Flora of the Drakensberg and Lesotho' (2003) and 'Forest Plants, in the forest and in the garden' (2006), published by the Flora Publications Trust. She painted and wrote the text of the trees, wild flowers, grasses, ferns and fungi in The Wildlife of Southern Africa. A field guide to the animals and plants of the region (Carruthers, V., editor (1997)
AWARDS: Conservationist of the Year (1996) from the Wildlife & Environment Society (Natal Branch), Certificate of Merit for Outstanding Contribution to Botany (1999) from the South African Association of Botanists, the Marloth Medal (2004) from the Botanical Society of Southern Africa, Ezemvelo KZN Wildlife Excellency Awards: Lifetime Achiever (2015), SALI (SA Landscape Institute) Awards of Excellence (2013). She was awarded an honorary Doctor of Science by the University of KwaZulu-Natal in 2008.