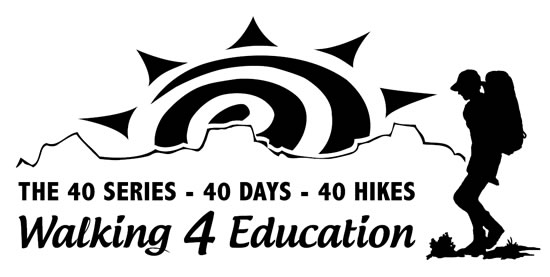 40 days – 40 hikes – 4 Education – An attempt at the planning
It is always a great idea to have all things in life mapped out. To know where you are and to have an idea about where you're going can be extremely helpful. I plan. But I do prefer to have a very vague picture and to just go with the moment. As a result I find that I am most often not disappointed.
But, the constant questions about this great 40-series has been making me feel rather uneasy. What are the walks? Who are your sponsors? When, where, which days, why? Gracious, I hardly know the answers! But it is amazing how questioning puts the mind into overdrive and slowly answers come.
After plenty of discussion and a couple of glasses of cheery bubbles the first plan was hatched. We will do the Big Five Hike & we will make this the only day with a great fundraising target.
Our target: R103 000
This is a significant number. Most things scary take a bit of courage and a lot of conviction and most of the time we will be successful. A giant leap of faith perhaps but we are out to do something so let's get on with it.
The day: Monday 19th May 2014
A significant day in our family. This is my paternal grandmother's birthday. Ruth Carte was in my mind an extraordinary lady. Strong in character, incredibly hard-working but most of all a great visionary. She came to The Cavern in 1941 to be a cattle farmer's wife and once it was decided that this was no good, she had the vision to see the opportunities in the beautiful surrounds and so The Cavern Guest Farm flourished.
Dear Ruth would have been 103 this year. We will hike the Big 5 Peaks – Hlolela, Battleship, Sugar Loaf, Cold Hill and Camels Hump – on her birthday we will endeavour to collect R103 000 for Education.
I have pledged the 1st R8000 and I have a few other takers who will join me. There will be a maximum of 20 hikers and each person will need to raise R5000. Broken down, that is R1000 per peak. And, we will toast dear Ruth in Cannibal Cavern.
Mail us if you are keen to join the great walk 4 Education. There are hundreds of little folk who are in desperate need of a quality education. You can help make this happen – just one foot in front of the other, breathing in the amazing landscape of the berg, and getting your friends and family involved.
Donations can be made directly to Royal Drakensberg Primary: Banking Details:
Royal Drakensberg Primary School Society
First National Bank Bergville
Branch Code: 22 06 25
Account Number: 621 2535 5893
Please use: 40/name as a reference