We have graduated from primary school. Our children are all done with Grade 7. We have done the leavers' party, we have enjoyed the prize-givings, been submerged in the happiness of Carols by Candlelight (all thanks to Eskom and the new loading shedding agenda…) and so we close the door on a chapter.
It's been a fabulous 5 years for us at Clifton Notties. What a great introduction to real school for our children. They all began at Royal Drakensberg but they all knew, when they turned 10, they would be boarding. We get many guests and friends who gasp and exclaim at how awful it must be. Poor children, sent off to fend for themselves, no mommy or daddy to tuck them in, no home-food or television, no family times. They must be so deprived.

Truth be told, the poor parents are slogging away while the children are having an absolute blast. Big dorms with lots of friends, crafting their own way, sneaking tuck and hiding from teachers, having access to a brilliant outdoor campus and actually growing themselves. They are void of the mom's what's app groups with a hundred and fifty reminders, they are responsible for their own sporting and academic commitments and if they want to achieve, they have to put in their own time. It's a little bit like practising being a grown-up in a very safe space.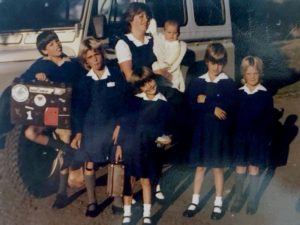 We were sent off to Boarding School at the age of 5. My earliest memory is being so chuffed that I hadn't been sent to the Head Master's office and while I remember bouts of home-sickness in high school, it was actually fine. We survived and we knew our children would too. But, there is something that boarding really does do. If we look past what we think it is and trace the intangibles, we see that it helps a child become responsible, it helps them grow in self-confidence, they learn to assess risks and actually become much more sensible. They become aware that life has consequences. They learn to navigate friendships and groups, they understand the value of teamwork and how important it is sometimes to just move on.
The trouble with being a parent is that we second guess our decisions and wonder if we have made the right choices. As we have watched our older children ease into High School Boarding it's quite reassuring to know that this choice and this chapter has been the best we could have hoped for. We couldn't have chosen better and our children have all been well-equipped for the next step.

It's no surprise that when our own friends chat of their Clifton school days that they become rosy-eyed and nostalgic. It's certainly a great space to grow children.