The Royal Drakensberg Education Trust works in the Northern Drakensberg Mountains of KwaZulu-Natal in South Africa. We are currently working with 18 pre-schools, 1 foundation phase school and impacting the lives of approximately 750 children. We are very fortunate to have support from a wide range of friends, corporates and businesses that ensure we can do this vital work.
---
Our vision – Transforming rural communities through quality education initiatives
About 18 months ago we embarked on a journey which saw us collaborating and our organisations working more closely together. Our aim was to use strengths in both organisations to help grow us so that our reach would be more significant and our impact greater. It has been tough at times but we have seen tremendous growth. Sharing ideas, collaborating with colleagues and really embracing a growth mindset has seen steps of advancement in teacher mentoring, the creation of community reading afternoons and there is an excitement for what the future holds.
Early Childhood Development is important, particularly in rural areas where life is challenging, Mothers and carers are normally the backbones of these communities and their days are full; fetching water, completing daily household chores, ensuring everyone is fed and keeping the home fires burning, particularly when we are plagued with load-shedding and the continual increases in living costs. They need support and through our school, the ECD centres and initiatives like BabyBoost and Community Reading, we are able to help stimulate the children. Without these early interventions the neurological pathways in the brain do not develop well and formal learning becomes much harder. This is so evident in South Africa where we continue to score badly in reading comprehension in children aged 9 years.
We are only able to do this work because of the great network which includes donors but also those on the ground who have really committed to helping us implement these changes. We share our update with you.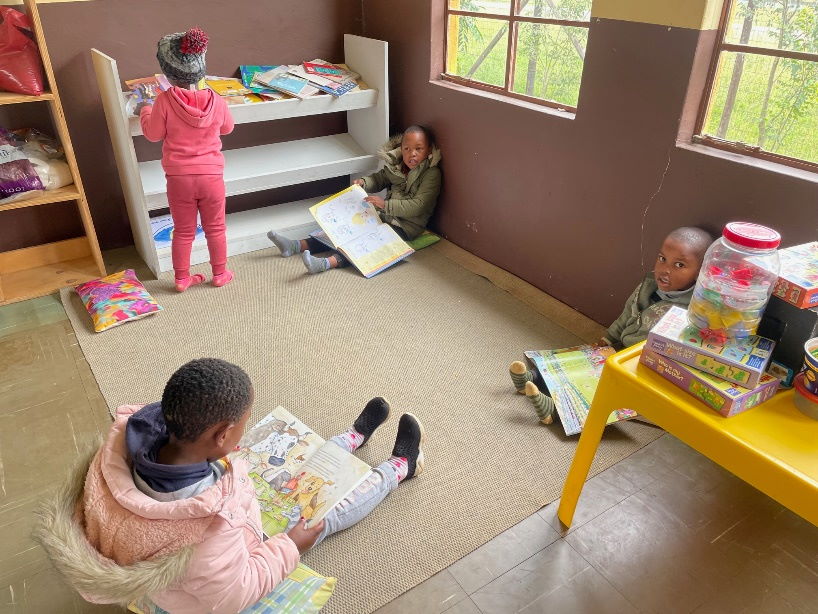 ---
Royal Drakensberg Primary
Royal Drakensberg Primary provides a quality foundation to learning and was established in 2007. Children enrol in the year they turn 4 years old and remain until 10. Through a curriculum which acknowledges children's mother tongue while also promoting English learning the school's teachers focus on the full development of the child, nurturing and supporting them to reach their full potential. Royal Drakensberg works closely with teachers from the community offering a mentoring programme to support the Khanyisela pre-schools.
In 2022 we have 100 children enrolled. We have 6 classes and learning in this nurturing space is always fun and exciting. Our classrooms are well stocked and our teachers dedicated. We implemented the Time2Read and Number Sense programmes a couple of years ago and we are excited to see the wonderful progress that the children are making.
We also have 2 interns who have joined us and this is made possible by the generosity of the N3TC. Nikiwe Ngcobo and Ntokozo Mdakane are completing a year with us, developing teacher practice and being exposed to a range of teaching methodologies.
At the end of Term 1 we say cheerio to Hesté van Niekerk. Hesté has been with us for over 3 years and her dedication to both the school and the Khanyisela Project has been wonderful. She helped us introduce the community reading afternoons and this will impact our community for years to come. We wish her every success in her new school in Bethlehem.
We welcome Michelle Ventress to our team. We know that Michelle is excited to join the Grade 1s and we look forward to a successful year ahead.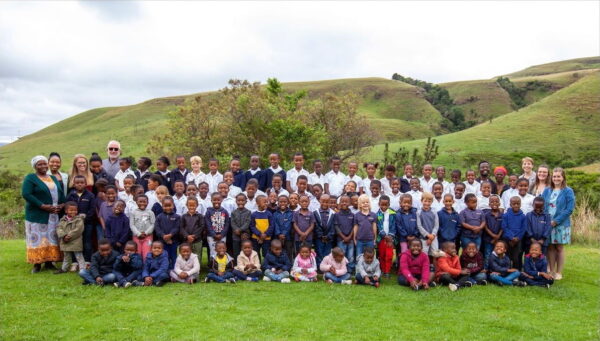 ---
Khanyisela Projects – Upgraded Facilities
There is the need for continual improvement and maintenance in all our small ECD schools in the amaZizi district. They are rudimentary spaces but are relatively well stocked and much magic happens within the 4-walls! This year we have completed many smaller projects and painted schools to make sure they are warm and welcoming. Special mention of the SORO foundation, George & Gerti, Daph & Dave and their helpers for making this happen.
We extend our thanks to Retford Rotary for assisting with upgraded toilet facilities at Ekhukanyeni, situated in the Langkloof community, and Gugulethu in the Obonjaneni area, closer to Royal Natal National Park. This has gone a long way in assisting with general hygiene and the promotion of good health.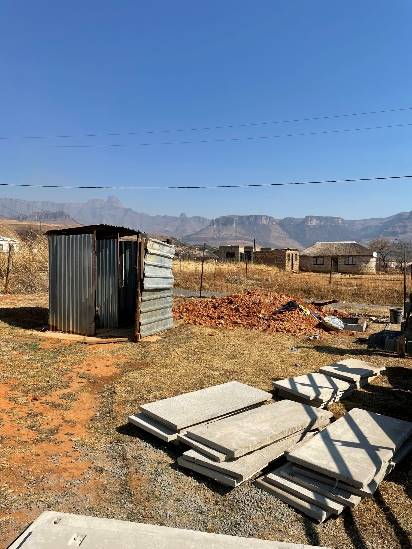 Play Equipment
Outdoor play is vital for young children's gross motor development and Hlelokuhle has benefited enormously from a new jungle gym. Learning is much more fun when we can climb and explore and play games with friends! Swings and jungle gyms have had important repair work completed and our thanks extends to Mr Ronnie who is a wizard with a drill and a few nails and screws.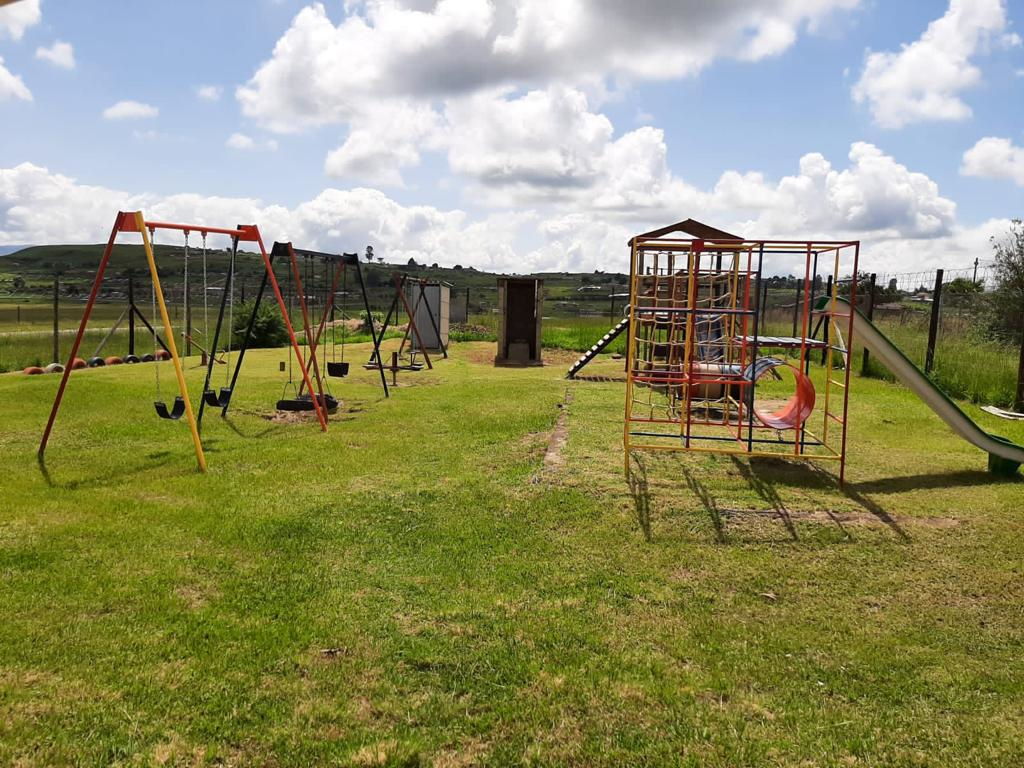 Porridge
Our monthly distribution into the schools continues. We have been fortunate to have been assisted with 6 months of porridge from a South African organisation, Do More. This is a short-term initiative which has provided assistance to many rural, underprivileged communities to assist during the Covid-19 pandemic. This will be ending soon and we will then go back to funding the porridge from funds available from Retford Rotary. The "Bread Fund" has been an ongoing base of support from afar for which we remain enormously grateful.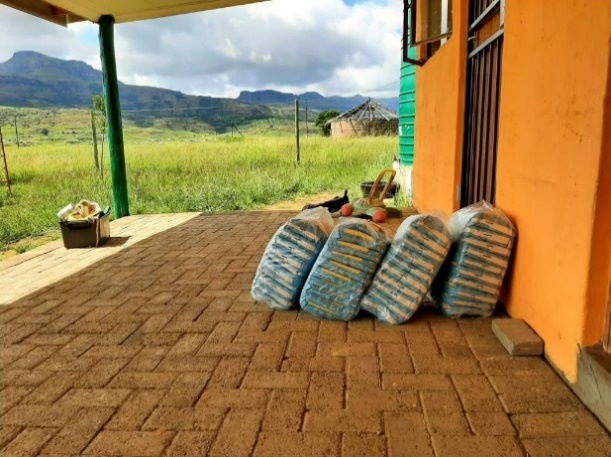 Teacher Mentoring & Training
Whilst facilities are vital, it is the learning that happens in the schools daily that really results in transformed futures. We continue working with the teachers through our mentorship programmes. We have 3 mentors in 2022. These are ladies from the community, Sibonelelo, Fikile and Mantombi. They have received training and are now helping to uplift their peers through improved classroom practice.
We continue hosting workshops at Royal Drakensberg Primary and we share ideas, open discussions and look at creative ways to teach skills using natural resources where possible. Most recently the workshop held focused on planning. This is a difficult concept for many ladies but through group presentation and collaborating in a safe space there certainly is continued learning.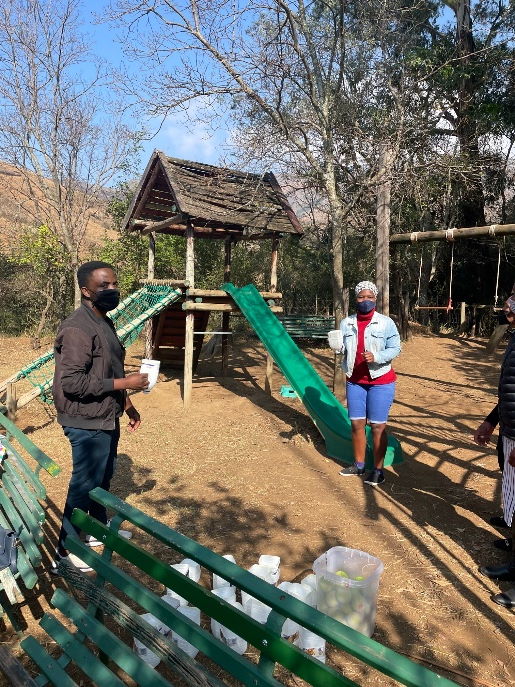 ---
Baby Boost
This year we have started 2 new BabyBoost sessions which will run over the next 6 months. BabyBoost was developed by Dr Marysia Nash and comprises 5 information workshops, 10-12 playgroups and a few home visits. Here we are focusing on the first 1000 days and we're helping mothers and carers to stimulate their babies so that the important brain pathways are developed and this makes learning later a little bit easier.
Much gratitude extends to Marysia, her husband, David and the Edinburgh community in Scotland for their support. Three large suitcases of toys for the children boarded a Boeing, landed safely in SA and arrived in the mountains. Included in this precious cargo were a large number of knitted toys, handcrafted by Maureen through several lockdowns. They will bring joy to many children in our community. The dollies have clothes for dressing and the little bears have wonderful neckties. These are so important for fantasy play which helps grow language in a meaningful and fun way. And, there are a collection of animals which are too precious for words! What a gift.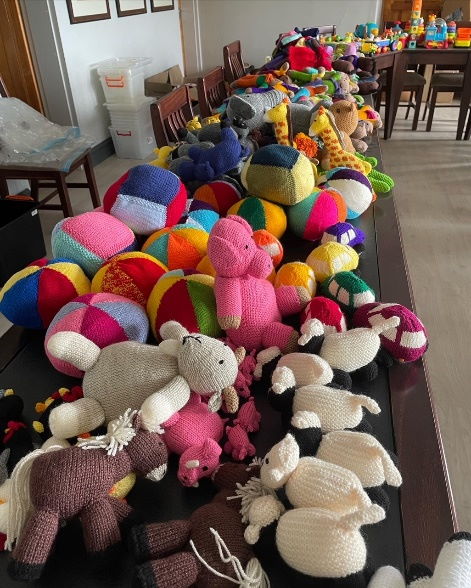 It is through our own learning in BabyBoost that we will also be establishing Baby Boxes in the ECD centres that have young ones. These will be equipped with appropriate toys and books and will also share messages about the importance of play, reading, talking and cuddling your baby through a series of posters developed by Dr Marysia Nash and her artist friend, Carol Baines.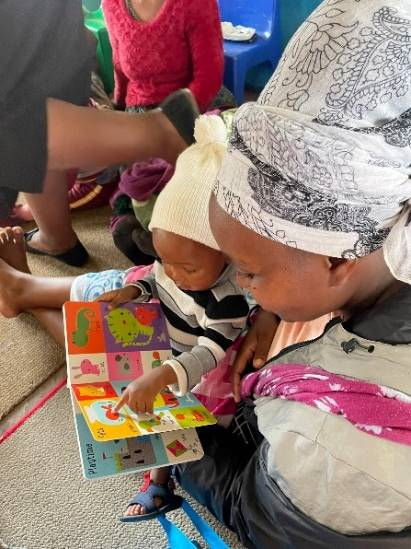 ---
Book Sharing
Our partnership with Book Dash enables us to distribute books into the homes of the children. Book Dash's aim is for every child to own 100 books before they turn 5. These books help parents and children read aloud for 15 minutes per day. This valuable story time not only promotes literacy but it creates "magic" where family's bond. See more www.bookdash.org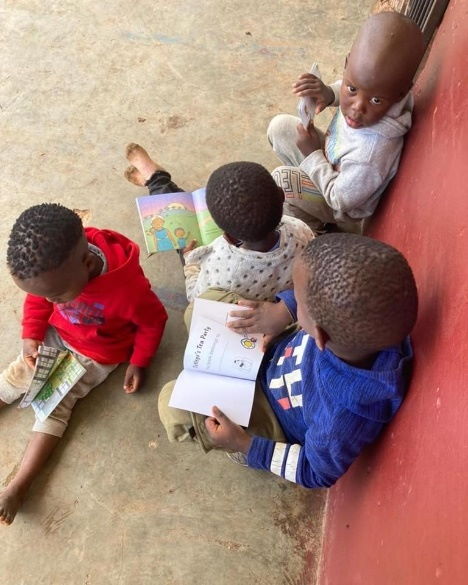 We have taken book sharing a step further and introduced Community Reading. On Wednesday afternoons the teachers from Royal Drakensberg head into the community to read to the children. These afternoons have been a treat for the children and we are working hard to establish a love of books and a love of reading. Books are chosen in isiZulu and English and many afternoons are finished off with some singing and dancing. These groups have started small but, on each occasion, have grown in numbers and as we finish up and move into a new area the resident ECD teachers have continued to read! It is so exciting!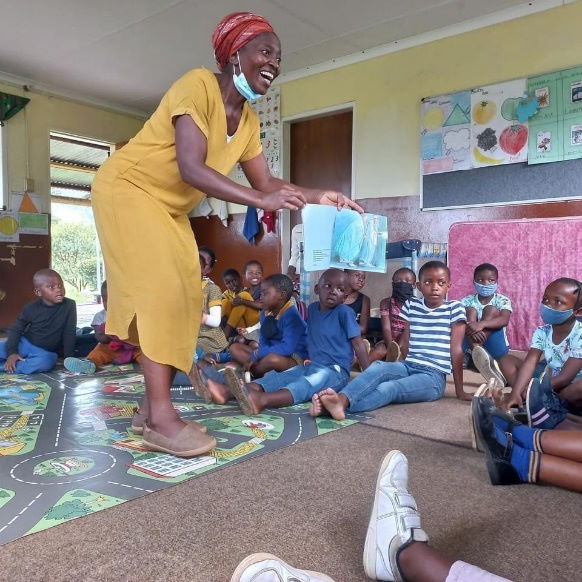 ---
Jumble & Knitting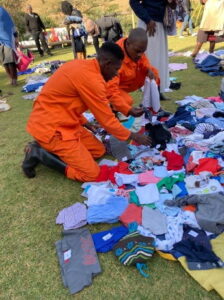 Special mention should be made of the donations we continue to receive from our Cavern guests. Thank You. We gather and then we sort and we distribute through various channels in our communities. These include the pre-schools, the primary schools and our local clinics.
Jumble is sold at very reasonable prices and these funds are then used within the projects for further improvements.
---
Social Responsibilty – Join Us
The work we do in our community gives us much purpose. We also try to focus our efforts in spaces that we believe we will have the greatest impact.
If you are looking for a project that works well and would like to partner with us, please contact Mike Greeff, our Head of School and Project Co-ordinator about getting involved (mikeg@royal-drakensberg.org.za ). Funds are carefully managed and our mission is to improve the lives of the children and ultimately those of our community and country.
To donate either zap the Zapper: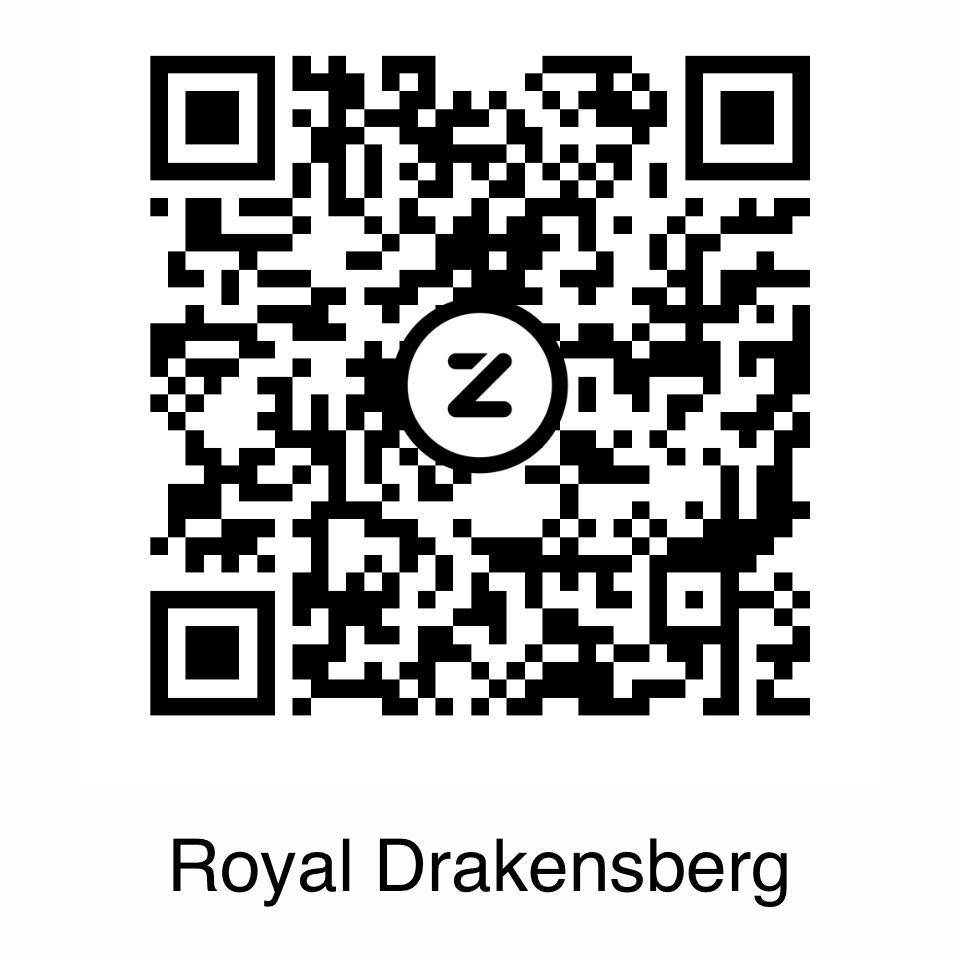 Or send donations to: Royal Drakensberg Education Trust
FNB – Bergville
Branch code – 220526
Account – 62504440603
Each entity is registered with SARS and we are able to issue 18A donation receipts for tax purposes.
www.royal-drakensberg.org.za