With the new year in full swing and the end of January approaching fast it is certainly time to try and leave the festivities of the season behind and start living afresh. I am sure EXERCISE and HEALTHY LIVING are near the top of the list of each person's new year's resolutions… As the crowds departed this week it was definitely time for us to take a quick check and begin.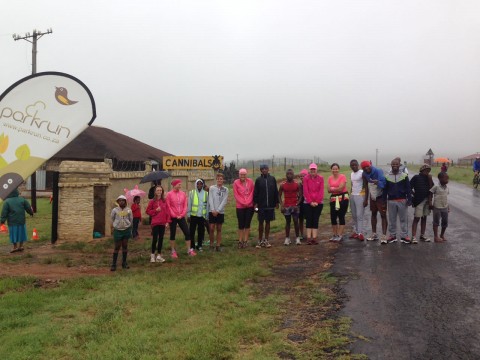 We started our Saturday with a #ParkRun. Our closest is at Cannibals in the Amazizi Village. Cannibals is a little coffee and curio shop, just before the Tugela Bridge at the entrance of the Royal Natal National Park. Cannibals was started by Lizzy and her family and she organises tea with Gwinya (traditional Zulu treat – well worth the calories!) and she can also arrange a village walk through the homesteads. Booking is essential and tea is by arrangement only.
The Park Run has been hosted here since June 2014. It is a fantastic way to keep slightly fit and a wonderful time to gather with other folk in the area beneath the majestic cliffs of the Drakensberg. It is a lovely little jog, undulating without too many steep ups and downs. It was super to see children and gogos participating and we were amazed at the bare feet and sharing of trainers. Anyone looking for a home for a pair of old trainers should drop them off at this spot.
If you are in the area over a weekend and looking for a #ParkRun – pop past Cannibals. For more details: http://www.parkrun.co.za/cannibalscave/
Here's to happy, active living in 2015!