News Update – October 2013
Hi All,
Daphne and I have just spent three weeks at the Cavern, primarily to spend time visiting the twelve crèche/pre-schools that form the Khanyisela Project. Our objective was to assess each school's progress and their needs. On the most part we are very pleased with the progress and now that we are aware of a few challenges, we are better equipped to continue to help these schools, the children and their teachers as we make plans going forward.
Teacher Training
All the teachers that attended the Early Childhood Development (ECD) courses have successfully completed their course and will be attending their graduation before the year end.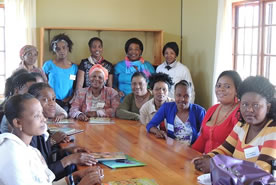 Teacher Training
Teacher Workshop
Fifteen of our ECD Level 1 and two of our level 5 teacher's attended a Midlands Community College three day workshop for ECD practitioners.
Some of the topics covered in the three day workshop were as follows:
Developmental and drama rings
Story telling techniques
Songs and rhymes
Making and using various educational games and resources
Both the level 5 teachers told us that the course was excellent and that they, along with the level 1 teachers, had learnt a lot of useful technics to help their day to day teaching.
Knitwear
Thanks to Margaret Dunmore & all the ladies in the UK who knitted and sent us another batch of jerseys, hats and blankets. As usual these were very well received by our young learners.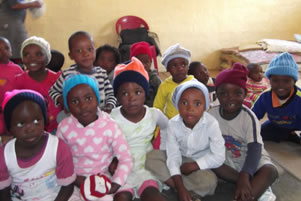 Samkelokuhle ECD Centre children wearing their new hats
Thanks too to Liz Short for her visit to the schools in early September & for the donation of jerseys, books & toys.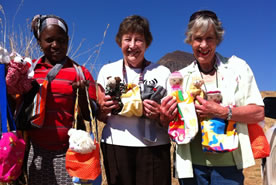 Many thanks Liz. We loved your visit!
Samkelokuhle Pre-school – New Classroom
Denso SA have made a large donation which made it possible for us to proceed with the construction of another classroom at the Samkelokuhle ECD Centre.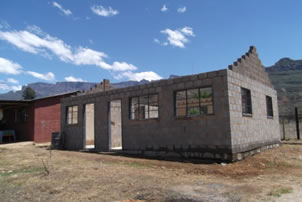 Samkelokuhle at roof height awaiting the roof trusses
Credit Guarantee has once again donated funds for us to build a patio roof and install patio paving.
We are particularly proud of the achievements this school has made in the four years since we built them a classroom enabling them to move from their small church building.
Vusanani New Classroom
This school has been housed in a small rondaval which had its roof blown off a while ago and had moved into a smaller premises. However thanks to a very generous donation by a member of the Rotary Club of Retford in the UK and members of his family the Vusanani pre-school will soon be able to get their long awaited new school building.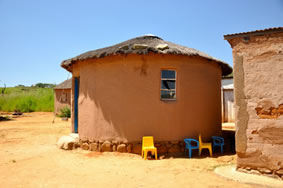 The Vusanani Pre-school which lost its roof
Ntokezwini New Premises
When we visited the school we were told that the school would soon be moving into the newly constructed community centre building next door.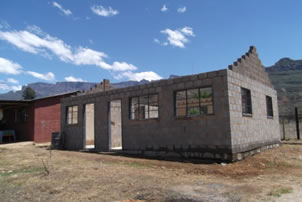 Ntokozweni's new premises in the Community centre
We visited the next week to be shown their new premises. It consists of two classrooms, a kitchen, storeroom and office. They now have plenty of room for their 38 learners (Previously housed in a building with three 3x3m rooms, one of which was used as the kitchen.), however, they badly need children's plastic tables and chairs, cupboards for the kitchen, an office desk and chair, store cupboard and general stationery, puzzles and toys
Zulu Reading Books
Zulu books, both for the children to use and for the teachers to read to them, have been in very short supply at our schools, but, thanks again to a very generous donation by Credit Guarantee, we were able to purchase and issue 37 different books for each school.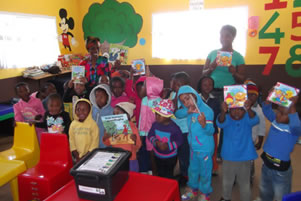 The Sigalakahle School receives their Zulu Books
We decided to buy plastic box containers for the books to be kept in, as most of the schools do not have adequate and/or suitable storage facilities.
Royal Drakensberg Primary School – 2014 Fundraiser
Save the date – The Royal Drakensberg MTB Challenge will be held over the weekend 28th to 30th March 2014.
Don't miss this exciting weekend in the mountains and help us to raise money for this lovely school.
Overall Project Funding
As always we wish to thank EVERYONE for all the donations, big and small, which are helping to improve the early childhood development in this beautiful area of South Africa.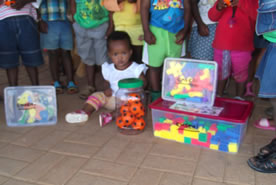 Toys, puzzles and balls donated by an overseas visitor to Emseni & Sigalakale schools
The Rotary Global Grant application, submitted by the Rotary Club of Retford, is progressing and we keep our fingers crossed that it will be successful and we will be able to install toilets, playground equipment and supply much needed educational materials.
Don't forget that The Cavern, in an effort to get more donations for the Khanyisela Project, is now linked to "Pack for a Purpose".
So if you are visiting from overseas or have family or friends visiting from overseas look at the website to see how you/they can help. We have listed our needs on the Pack for a Purpose website. Visit www.packforapurpose.org
Thank you and best regards.
Dave & Daphne Thurlwell, Megan Bedingham and Jean Carte.
The Cavern – Khanyisela Project
Tel : 083 512 0146