Feeling like a lamb to the slaughter, ANDREA ABBOTT arrives on a painting course in the Berg. To her delight she discovers she is not, after all, stuck with stick figures
The list of materials required was daunting. It included a scalpel. For an art course? Or, to be more precise, a journaling course in the Northern Drakensberg of KwaZulu-Natal. Now look, I am the first to admit I'm no artist – stick figures are my limit, as they were in Grade 1 – but, and if you'll excuse my ignorance, what has a scalpel got to do with drawing and journaling? Not much, some might say but, as I was to learn (with considerable relief), it's the best thing for sharpening pencils. I was also to learn a whole lot more during the five-day course, including that I can draw. Well, sort of.
Creating a natural history sketchbook is what the course is all about. Held at the family-owned Cavern Drakensberg Resort, it offers guests the opportunity to 'experience the wildlife, wildflowers, and scenery of the Drakensberg by sketching and painting in the field and in the studio with Gill Condy and Elsa Pooley'. For those who haven't been there, The Cavern is found on an acclaimed Site of Conservation Significance, in a sheltered valley next to that most famously scenic area of the Berg, the massive basalt rampart called the Amphitheatre.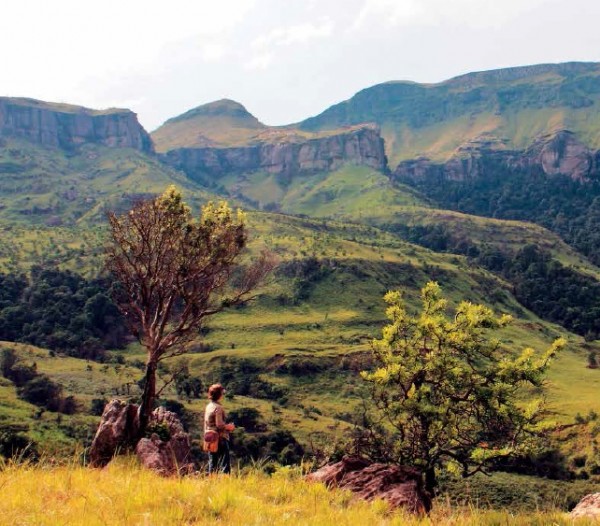 It's a place of superlatives, where you'll also find Mont Aux Sources – highest peak in South Africa, source of the Tugela River, and site of the second tallest waterfall on Earth, the Tugela Falls. Sandstone caves, deep river gorges, ancient forests, extensive San rock art, spectacular thunderstorms, rich biodiversity and outstanding natural beauty combine to make this part of the broader uKhahlamba-Drakensberg World Heritage Site one of those 'must see before I die' destinations. Steeped in all that grandeur, it's the perfect place to hone your artistic skills, or, as in my case, discover if you have any.
Add to this the privilege of being in the company of two eminent botanical artists – Gill, the only resident botanical illustrator at the National Herbarium in Pretoria, and Elsa, renowned botanist, painter, and author of many guide books to the indigenous flora of our country – and the scene is set for a fabulous few days. Despite that promising scene, I arrived with fellow nature enthusiast, Anno Torr, editor of an indigenous gardening magazine and my rival in the bad-art stakes, both of us feeling like lambs to the slaughter. We were ushered to the terrace and introduced to our four fellow students, all, we quickly realised, talented artists. Three had done the course before, five times in Heidi Johnson's case. "It's a very brave thing to come to a drawing class," she said. You're telling me.
We were put to work immediately.
"We'll start with a landscape sketch," Elsa said. Now the artists among you will know that landscapes aren't easy. There's all that business of perspective, balance, the golden mean, light, shadows. Still, Anno and I threw ourselves into the task, each of us coming up with a feeble (laughable, even) version of the mountainscape. As Elsa leaned over our shoulders to check our progress, I cringed. I needn't have. Elsa's comments were gentle and encouraging and set the tone for the rest of the course.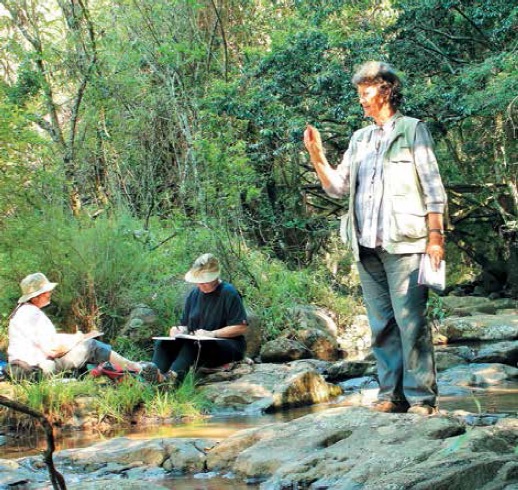 Weather permitting, and after a hearty breakfast, the day's programme started with a leisurely walk. Elsa, who knows the area and its plants like the back of her hand, was the perfect guide. Some days, you visit the ancient Fern Forest – a true Afromontane forest dominated by some of the most spectacular trees in the Berg. Or you follow trails through flower-studded grasslands of the foothills, and through the Protea woodlands, where the chances are high that you'll see the endemic Gurney's Sugarbird, Promerops gurneyi. Armed with sketchpad, pencils, and folding stools or cushions, our group stopped every now and then to sketch and make notes of flowers or other interesting features or creatures. Some people focused on individual flowers, leaves, or even seed pods, others on the wider context. And while we were sketching, Gill and Elsa gave useful tips. How to draw a tree? "If you draw its shadow, you've got the tree," Gill advised.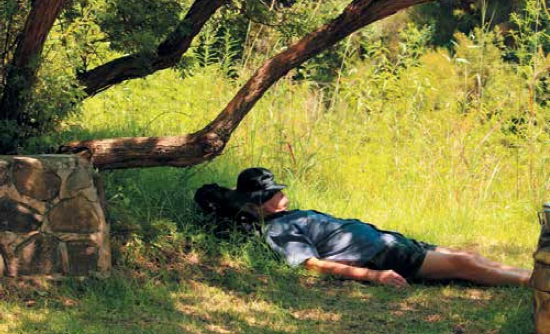 On that first morning, while the authentic artists created exquisite drawings as if by magic, I tried my hand at sketching (roughly) a rustic wooden bridge. It wasn't exactly a masterpiece but it wasn't in the stick-figure genre either. You could at least see that it was a bridge. "It doesn't matter what type of drawing you do," Elsa said. "The important thing is that you're outside, absorbing nature, seeing rather than just looking at your subjects, and that you're making a record of time spent outdoors." And that – a botanical art course in a natural area – is, Elsa says, one of the unique aspects of the course.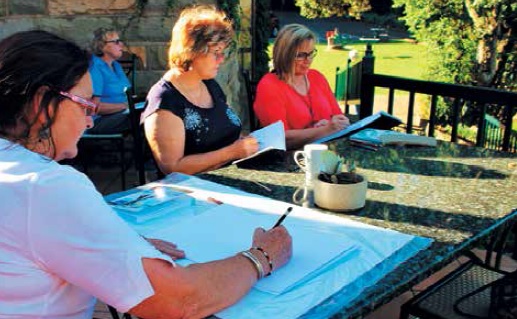 The afternoons are usually spent in the studio. That's when the more accomplished artists brush up on their already considerable skills and perfect their drawings ahead of painting them, or when beginners like Anno and me learn important techniques and develop our confidence. As Elsa said, "The course teaches accurate drawing followed by watercolour techniques." And so we learnt about hitherto mysterious things like using negative space, drawing basic shapes to produce a correct outline, and doing tonal drawings to capture light and shade. With Gill demonstrating how to mix watercolours, we also found out that creating accurate colours is an art in itself.
"Watercolour is generally accepted as one of the most difficult mediums and botanical art is at its best when captured in watercolour," Elsa told us. Certainly Elsa's and Gill's exquisite paintings proved that. The classroom sessions are not hushed and dreary; there is much goodnatured banter and laughter, and plenty of refreshments. Still, the time comes when even the least-talented student (this writer) must knuckle down and concentrate. With that comes the reward of seeing your ability evolve. "Some people develop dramatically," Elsa said. I'm not sure you could say that of me, but by the end of the course I had produced a drawing that was at least a recognisable Aloe arborescens branch. I hadn't finished painting it so I took the branch home to ensure that when I mixed the paint, it would be the correct shade of green. That never happened. I planted my aloe outside to keep it alive but my husband accidently sliced it into a thousand pieces with the brushcutter.
Never mind; it was a good reason to take the course again. Not that I'd need any excuse to go back. They were a memorable five days characterised by the immense splendour of the Drakensberg, camaraderie, convivial evenings around The Cavern's legendary dinner table (special vegetarian menu just for me) and the satisfaction of discovering that I was not stuck with stick figures.
This article appeared in Country Life