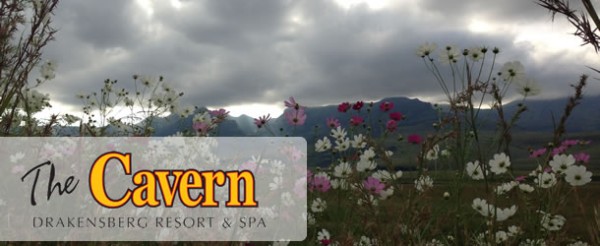 Dear Friends
We love the change in the seasons. The grasses are becoming brittle and brown and the cooler night air means that fires will soon be an everyday happening in the main lounge and dining room.

Easter is here and we will be enjoying a full house for the next few weeks. This time last year we hiked for 40 consecutive days and when we looked through the photographs this morning we were once again struck by the blue, blue skies. It is an awesome time to be in the mountains!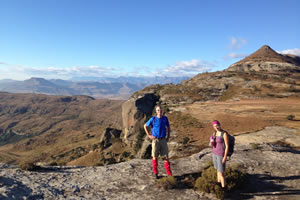 Very good news and actual progress seen is on the work on the R74. KZN have begun working and fixing the bottom portion of the Oliviershoek Pass and the Free State have awarded the contract to fix the portion of road past the Sterkfontein Dam. There are a couple of Stop-Go's which can take about 15 minutes but it is very encouraging to see work happening. In a little while it will once again be a quick dart from Jo'burg to the Drakensberg!

---

#Education News ~ Ride4Education & Walking4Edcuation
South Africa is certainly the land of sunshine, promise and plenty of challenge. We remain committed to improving education standards and we are in the process of finalising the arrangements for the Royal Drakensberg MTB Challenge which happens over the weekend of the 18th & 19th April. The men in the valley are all lending a hand and Chris has once again created brilliant new trails to keep it all interesting & the ride awesome! We thank all our sponsors who help make the weekend full of festivities and fun.
We have added a new event this Winter. The Big 5 Hike is happening on the 6th June and our #Walking4Education Team is out and about raising funds in a host of different ways to support education in our area. Each hiker is committed to raising R5000 and they will spend the weekend on us. Keep abreast of all the happenings by following us on Facebook! The Cavern kids and Moya will be doing their own fundraising and if you'd like to donate please assist them by making donations through the following secure credit card payment portal:

Each R200 donated enters you into a draw to win one of two prizes – A 2 night stay for 2 in a superior suite, including all meals, teas and guided morning hikes.
Read Natanya Mullholland's Big 5 Article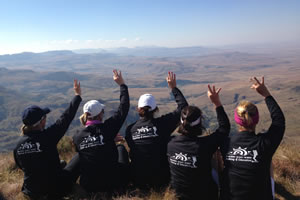 David & Daphne will be making their way back to the Drakensberg in the next few weeks to check up on all the pre-schools that make up our Khanyisela Project. We will be having another Jumble Sale and we hope to be able to firm up the plans to build another classroom at Siqalakahle. Always much to do and we are enormously grateful to all the individuals, corporates and families who continue to make a massive contribution to our community.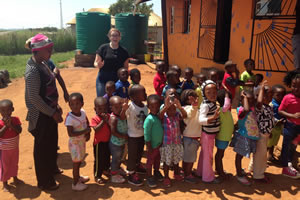 ---

Life in Hospitality
Trip Advisor and children have much in common. Just when you think you're on track and feeling as though you have made tremendous progress they both have an uncanny way of bring you back down to earth! It is a wonderful means to keep level. Thankfully it's the fun moments, the amazing folk we meet and light-hearted good cheer that makes every day marvellous. So we do love our children and the good remarks and thank you all for them; 'Every visit to The Cavern has been absolutely magnificent'; 'what a fabulous place to kick back';' The location in the Northern Drakensberg is stunning'; 'Delicious food', 'superb guided walks and a wonderful home from home ambience pervades this family owned resort'….
We know our old ship needs plenty of maintenance. The office, which is the hub of it all, has had a lovely upgrade this year. We have a forested wall and we hope to be much more productive and efficient going forward! Our Games Room foyer, where the tea is served, is in the middle of being completed. The floor is new and gorgeous and we look forward to putting up new curtains, blinds and adding cheerful scatters within the next month. We continue upgrading the bathrooms and next on the calendar is the Room 1-3 block. Our swimming pool surround will be done during the month of May and you'd better book a visit to see the new kiddies' area in the summer of '15!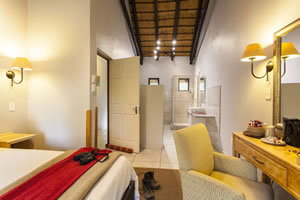 A snippet of news from our Birding Blog – David Johnson
The Crowned Eagle made its first ever appearance two years ago, and is very unusual at this altitude. But "our" eagles have been seen performing their duet high in the sky since then, and on Saturday a single eagle gave the continuous yelping call as it circled above Fern Forest.
Another rare bird, especially outside the lowlands, is the Black Cuckoo-shrike. It's presumably named after the female, which is basically yellow with lots of barring, and looks quite like a cuckoo. The male is completely different, jet black, and is easily mistaken for a Drongo or Black Flycatcher. Field guides illustrate it with a small yellow shoulder patch, but few individuals actually show this feature. More diagnostic, but rarely mentioned, is the glimpse of orange at the corner of the gape. The flattish crown of the head is the only other feature of note. The Black Cuckoo-shrike has been seen only twice before at the Cavern, but this male gave a good showing in the acacias beyond the river bridge.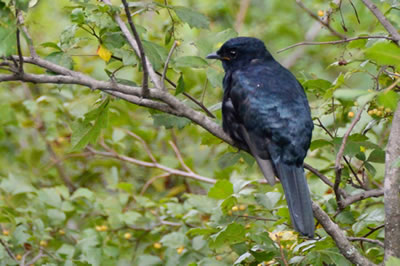 We also had a mystery bird, certainly it did not remotely match any picture in all the field guides. It was sparrow-sized, completely plain smoky brown, slightly paler below, with a bright red beak. The least likely explanation is that it's a species new to science: better is to assume that it's a little-known plumage (often of a juvenile) of something common. The snag is a coloured beak – juvenile birds rarely have "sexy" colours. But it turns out to be a young male Pin-tailed Whydah.
Grand finale was a visit to the Tower of Pizza to see the Amur Falcons come to roost. The season is coming to an end, with "only" about 1000 birds, compared with double that a month ago, but a fine spectacle for our foreign guests who have never seen anything like it before.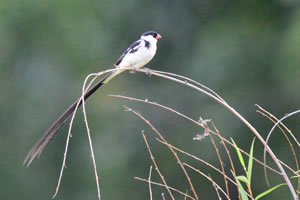 ---
Final Word
Safe travels always. Best wishes this Easter time. And we hope to welcome you all again for a happy return!
Much love,
The Cavern family