Our grandmother, Ruth Carte, has always been held in quite high esteem by her grandchildren. She was a very determined woman but was also very private and at times quite reserved. She had a family to support and many folk who depended on her and since she was in hospitality she just had to make a go of things.
Ruth's family had come from a farm in Lothair, Mpumalanga. Her brothers were timber farmers and for some time they ran a successful mill. When Ruth needed to put a new roof on the main lounge it made sense that the long poles should come from the family farm. At the time the Railways still worked very efficiently and it was decided that it would be best to send them by rail. There was one small issue and that was that farming goods were much cheaper to transport than building goods and so the load of "fence-poles" were dispatched to Bergville.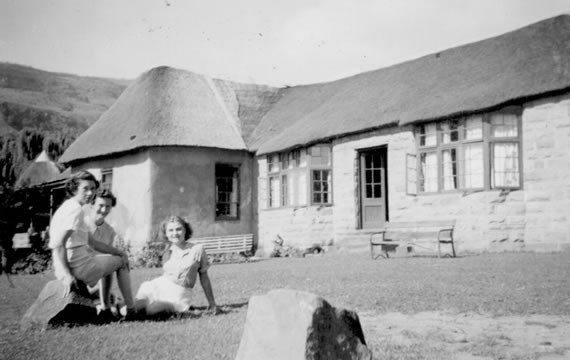 Main Building with old roof
The station master from Bergville phoned Ruth to let her know that the "fence-posts" had arrived. He then made the comment that we all still chuckle at, "Well, Mrs Carte, you must be farming giraffes"….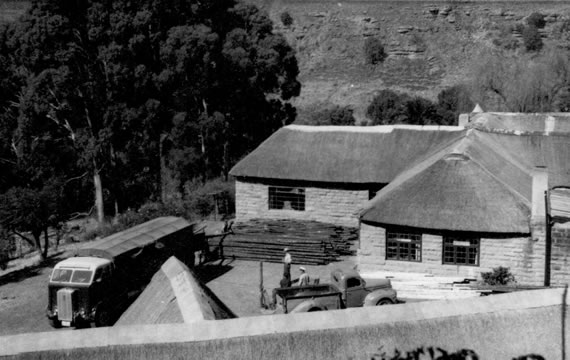 The delivery of "fence posts"
Another remark which is often repeated follows Ruth's telephone call to the butcher to complain about the tough meat, to which he replied; "There is no such thing as tough meat, only blunt knives". Perhaps this comment has resulted in the 3rd generation eventually investing in steak knives!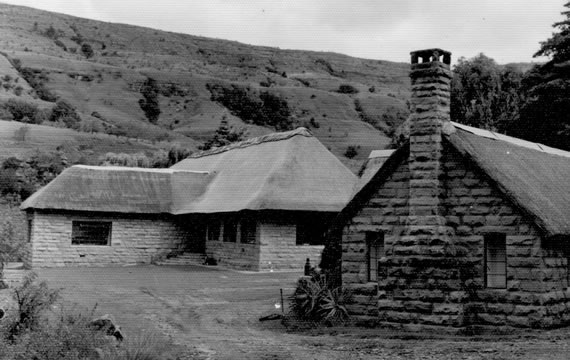 The new lounge roof – 1959
As the generations move on and time marches these special family comments can be completely lost. Our late Uncle David wrote a few memories down in an article A well wooded valley… But we were also quite fortunate to have him recall a few Roddy-isms. Roddy was Ruth's brother, larger than life, sparkling eyes and a great white beard. He hiked the hills and had many a chirp. Some of his favourites were;
The sport of kings – Queens
A dog is man's best friend… until he gets you by the throat
Follow him, he doesn't know where he is going either
My stomach thinks my throat's cut
Leta yonke (I'll have the whole menu)
Interlaken – between the sheets
Banging your head against the wall – it's nice when you stop
Write it down, keep it safe and share it with the grandchildren…