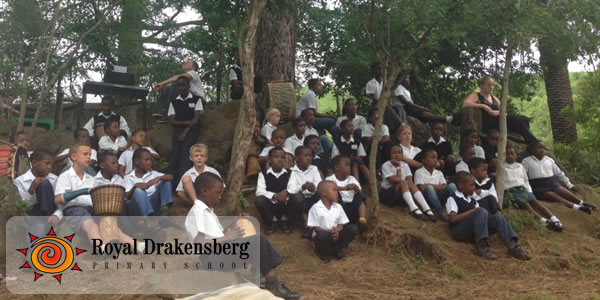 Dear Friends
This year has ended on a high. We sat beneath the tall pines at the back of the school to commend all our gorgeous children, to mark special effort and excellence and to thank all those involved in keeping our school afloat. It was a special occasion, shared with the three important pillars that can only lead to good things – the children, their supportive parents and a dedicated team of teachers. We have much to be grateful for.

Special times at Royal Drak
We had special visitors this term. Bryce & Tate Seidler took a couple weeks out of city-life and joined us in the mountains to experience a different school in a special valley. They slotted in easily, joined in with all the children and added tremendous fun to the days. Thank you to Amanda & Gavin for being parents who are willing to go out and explore, to venture into the unknown with such enthusiasm and thank you for your generous support of our school! It was a wonderful experience for us too!


Market Day
While the Seidler's were with us we had our annual Market Day. It was a super morning with loads of activities for the children, a few crafts and tasty eats and drinks on sale. Many coins changed hands, prizes were won and it was a festive day on the grass! We were blessed with great weather, tremendous support and managed to raise just short of R5000 for improvements to our school.

Grade 3's visit to Drakensville
Grade 3 had an amazing day out at ATKV Drakensville. The day was filled with exciting action. We started by foefie sliding across the dam which was scary to start with but once the first slide was over we couldn't get them off. We then headed out into the mountains so we could abseil down a rock face. They all got there gear on and away they went down the mountain. WOW! Once again they were so brave, what an exciting accomplishment. We then headed back for some well-earned lunch followed by a few team building activities which got the class solving problems as a group. To end the day off we went sliding down the super tube and swimming in the heated pool. This outing was definitely a highlight in the Grade 3 year.

Visitors
Royal Drakensberg is very close to a number of resorts and we get a fair number of folk popping in. It was lovely to welcome Mary & Bethia from the UK. They spent a few mornings with the children, reading and sharing stories. We also had Avril Ribeli pop in. This created much excitement for the children as they met a real author! Thanks Avril! And thanks too for the gorgeous clothing, we are all very grateful.

The Christmas Play
Our little children, Grade 1 and below, end their year with the annual Christmas Play. This year they learnt strings of words and did their very best as they performed to a packed house. The Christmas story was narrated by them all and we were so proud. Well done!
Writing to Share – It is a beautiful morning at RDP by Kabelo Mbula Grade 4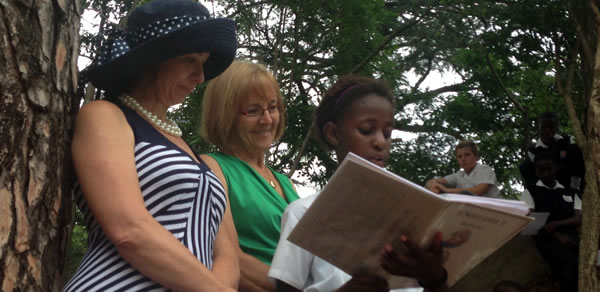 20 November 2014
It is a beautiful morning. The birds are singing and the river is flowing gently like music. Everything is quiet and peaceful. Children are in a rush and it's so noisy. But if you sit by yourself, you will hear peaceful sounds, it is like you are all alone in an empty tranquil jungle. The wind is blowing gently. The hills are green and brown with silver rocks like diamonds, and all the children are in a hectic rush, but I'm calm and serene. Little birds and big birds dancing happily together. If you just listen you will hear beautiful sounds and all in love with this lovely environment. So please if you want to sit next to me be quiet and you will hear it, the birds and rivers. Little children, big children all playing and laughing together. Swallows and sparrows all flying across the sky all colourful and beautiful. My oh my! If you just listen you will hear sweet sounds and peaceful birds all singing and enjoying themselves. Mother bird and father bird are playing with their little ones. If you listen and believe you will feel the magic. All you have to do is listen. Be at peace and appreciate our beautiful environment we have. Royal Drakensberg Primary we are blessed.
On that lovely note, from our tranquil valley, we wish you all a blessed Christmas time. We hope 2015 is positive, prosperous and peaceful.
With kind regards,
Megan & Loretta & all at RDP