GPS Co-ordinates
Road upgrade complete – the R74 past Sterkfontein Dam upgrade is complete.
If you search for The Cavern, and do not find us, please use these co-ordinates into your GPS / Sat-Nav:
28°38'6.03″S
28°57'44.62″E
Approach the co-ordinates from the East, that is, from the KwaZulu-Natal side. There are mountains on our Western boundary, and the closest pass is Oliviershoek Pass. If you use these co-ordinates please consult the map below to assist you.
Transport:
We are on tar roads 3 hours from Durban and 3.5 hours from Johannesburg in the Northern Drakensberg, 10km off the Bergville – Royal Natal National park road.
Petrol is available in Bergville or Harrismith.
Guests travelling from Durban or Johannesburg can use the Baz Bus.
There is a charge for this service.
How to find us
Route A – Johannesburg: Note: Quickest and most direct route but does include a rough section on the R74; approx 16kms
Travel to Harrismith on the N3.
At Harrismith take the N5 route towards Bethlehem for 4 km.
Turn left towards Qwa-Qwa, (R74 & R712)
Travel 8km
Turn left, following the R74 towards Bergville and the Oliviershoek Pass.
Travel for 38km, continue a little way beyond Little Switzerland.
As the Pass levels out turn right at the Northern Drakensberg sign.
Travel towards Royal Natal National Park for 6km only.
Just after the Tower of Pizza, turn right at the sign to The Cavern, Alpine Heath and Hlalanathi.
The Cavern is at the end of this 10km tarred road. 360 km JHB to the Cavern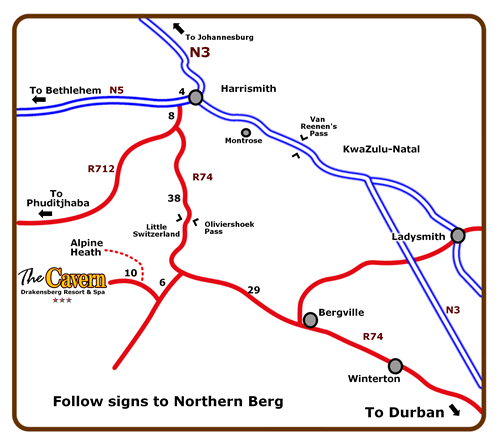 Watch out for horses and other livestock on the road.
Route B – Durban:
Take the N3 beyond Estcourt.
6km after the Shell Ultra City, Exit 194, take the left glide off towards the Northern Drakensberg, Bergville and Winterton (R74).
Travel through the towns of Winterton and Bergville, and on towards Harrismith.
29km beyond Bergville turn left towards the Northern Drakensberg (at the base of the Oliviershoek Pass).
Travel towards Royal Natal National Park for 6km only.
Just after the Tower of Pizza, turn right at the sign to The Cavern, Alpine Heath and Hlalanathi.
The Cavern is at the end of this 10km tarred road.
280km from Durban
The Baz Bus 021 422 5202
for collection at the Amphitheatre Backpackers (a nominal fee applies)
Please ensure that you have ticket confirmation number
This service only runs 3 days per week – please ensure your booking arrival and departure are on days indicated on your bus ticket